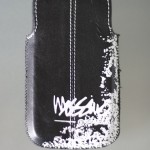 Since I got my iPhone I've been trying to find a suitable case for it. As I mentioned on Stephen's blog back in July I was looking for a pouch style case. I wanted something a thin as possible but not something that was permanently on the phone. I don't see the point of buying some thing with excellent design then wrapping it in some ugly case. I've been dropping into phone shops now and then to see what cases they've got but hadn't found anything compelling until this week. I saw that TeleChoice seemed to have what I was looking for, it also happened to be a Mossimo case. There is one problem that I didn't notice in the shop though.
The case itself is almost exactly what I'm after: it's a vertical slip-in genuine leather pouch with a soft liner. There's one glaring fault though, which is the inclusion of a metal eyelet. The eyelet will of course get pressed against the phone and damage it over time, especially when in a moving jeans pocket or similar. I haven't yet decided what to do about. Options include removing it, putting tape or something over it or putting a little piece of tape on the phone.
Update: I ended up just not worrying about the metal eyelet. It has put a small circle on the back of the phone but its not particularly obvious.
Stay in touch!
Follow me on Twitter or Mastodon, subscribe to the feed, or send me an email.