This weekend Amanda and I embarked upon our first attempt at once a month cooking. The theory goes that you spend a weekend buying and cooking in bulk and then don't need to do it again for another month. Given we both aren't keen on cooking when we get home from work this allows the meal preparation to be simple and quick, without resorting to frozen pizzas or trips to KFC. It also has the potential to be cheaper since you can buy in bulk.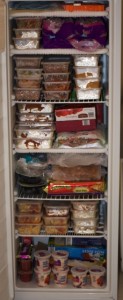 We selected a number of pasta dishes including typical sauces such as Bolognese but also did a lasagne and spinach and ricotta cannelloni. To add some variety we also included some double batches of massaman and Thai green curries. For snacks we baked some choc-chip cookies and choc-caramel muffins. Most of these weren't from scratch. Packet mixes, pre-made curry pastes and bottled pasta sauces were used to keep things simple also also allow the meals to be done quickly allowing us make more in a day.
It is pretty tiring standing at the bench for hours on end so we came up with a system of one hour shifts. One of us would cook whilst the other did lighter tasks around the house, which worked well. It also avoided the problem of, "too many cooks in the kitchen…".
The end result is a very fulll freezer as the photo on the left shows. All that should keep as in dinners and lunches for a couple of weeks. We don't have the freezer space to do a full month's worth although we have the ingredients to do the second fortnight of meals without another shopping trip.
Stay in touch!
Follow me on Twitter or Mastodon, subscribe to the feed, or send me an email.